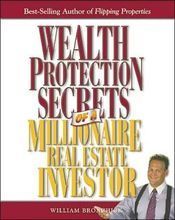 "Wealth Protection Secrets of a Millionaire Real Estate Investor"
"Most books about asset preservation are dull and boring. But this one is different. It is remarkably well–written, organized and filled with practical advice to avoid lawsuits and preserve your assets, especially real estate. On my scale of one to 10, this outstanding book rates a solid 10."
— Robert Bruss, Syndicated News Columnist
Successful real estate investors and entrepreneurs who have spent countless hours building wealth often see their profits dwindle due to an IRS hitch or other legal snag. After working so hard to be prosperous, investors need to know how to hang on and preserve their wealth.
In a clear, methodical, and accessible way, Wealth Protection Secrets of a Millionaire Real Estate Investor outlines the steps and techniques to safeguard investments. Until now, William Bronchick's wealth protection secrets have been available only to attendees of his powerful seminars, who have consistently praised his cutting–edge, concise, money–saving advice. In Wealth Protection Secrets of a Millionaire Real Estate Investor, Bronchick shares his proven methods, including how to:
Use trusts for privacy, asset protection and estate planning.
Understand the difference between S and C corporations.
Become legally judgment-proof using LLCs and Family Limited Partnerships.
Defer income tax payments without a penalty.
Slash taxes through the use of corporate entities.
Gain protection from financial ruin in a poor economy.
Understand how to properly use insurance to minimize costs and financial risks.
Also included are sample asset protection plans that can be easily modified. Smart real estate investors and successful entrepreneurs will get an indispensable collection of some of the best ethical and legitimate tactics for maximum wealth protection.
Retail Price $18.95