Best-Selling Books by Attorney William Bronchick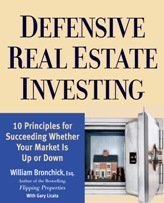 "Defensive Real Estate Investing"
10 Principles for Succeeding Whether Your 
Market is Up or Down
by William Bronchick & Gary Licata
This book, based on Bronchick's successful lectures and articles, gives practical, sensible tips for anyone looking to limit risk and make sound investment choices, no matter what their local market conditions. This easy-to-follow, indispensable guide provides reassurance to investors that they can still make safe choices and achieve maximum, long-term wealth in real estate. Topics include:
How to analyze your market
How to determine the value of a property
How to analyze the math behind real estate deals
Working in up and down markets
Safest investments in any market
Real estate scams to avoid
and much, much, more!
Retail Price $18.95
---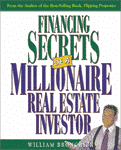 "Financing Secrets of a Millionaire Real Estate Investor"
"19 bucks well spent"— USA Today
"9 On a scale of 10"— Chicago Tribune
"Many kinds of financing that real estate investors can use."— Detroit Free Press
Financing is a critical factor in structuring real estate deals, and both beginners and pros alike are hungry for information about all the options. For the first time ever, real estate attorney and best-selling author William Bronchick presents a comprehensive picture of exactly what's available. In clear, step–by–step language, he outlines:
How to understand the mortgage loan market, including the advantages and disadvantages of various types of mortgages
Which mortgages make the most sense, depending on the investor's particular situation
Legal and ethical alternative real estate financing methods, including contracts for deed and lease/options
Partnerships and equity sharing arrangements
Wraparound financing
Using bonds and other collateral
Financing Secrets of a Millionaire Real Estate Investor also includes sample forms, letters, policies, and procedures. It is the definitive insider's guide to traditional and creative real estate financing, eliminating the need for additional books on these subjects.
208 Pages of solid information, includes sample forms.
Retail Price $18.95
---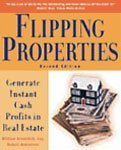 "Flipping Properties – Instant Cash Profits in Real Estate"
"Top 10 Amazon Real Estate Bestseller"

"Cannot be recommended too highly… on my scale of one to 10, this book rates an off–the–chart 12!" — Robert Bruss, Syndicated Real Estate Columnist
"A classic in its field." — Herald Tribune
Nationally–recognized Author and Attorney William Bronchick, shows you, STEP–BY–STEP, the secrets that professionals use, such as:
How to find and flip properties quickly, legally and ethically
How to find an unlimited supply of investors to flip houses
Working the foreclosure market from beginning to end
Understanding the flipping "hoopla" and the difference between legal and illegal flipping.
Working with (and motivating) real estate agents so they bring you all the deals you need
Over 20 ways to find motivated sellers and qualified properties in today's real estate market
A step–by–step understanding of the "double–closing" process – made simple!
Understanding all of the paperwork involved in real estate transactions, including deeds, mortgages, contracts, notes, and title
How to put together a team of professionals that will help you succeed
How to analyze the numbers of a profitable (and unprofitable) real estate deal
How to estimate fix–up costs on rehab properties, even if you never picked up a hammer!
How to find all the money you'll ever need – even if you have no credit or provable income
How to negotiate "win/win" deals that put CASH IN YOUR POCKET!
How to draft offers that get accepted, even when a real estate agent is involved
How to flip properties FAST and put immediate CASH IN YOUR POCKET
How to get started, get motivated and stay motivated in this business!
Retail Price $18.95 
---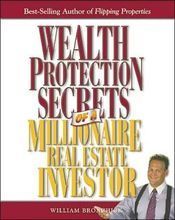 "Wealth Protection Secrets of a Millionaire Real Estate Investor"
"Most books about asset preservation are dull and boring. But this one is different. It is remarkably well–written, organized and filled with practical advice to avoid lawsuits and preserve your assets, especially real estate. On my scale of one to 10, this outstanding book rates a solid 10."
— Robert Bruss, Syndicated News Columnist
Successful real estate investors and entrepreneurs who have spent countless hours building wealth often see their profits dwindle due to an IRS hitch or other legal snag. After working so hard to be prosperous, investors need to know how to hang on and preserve their wealth.
In a clear, methodical, and accessible way, Wealth Protection Secrets of a Millionaire Real Estate Investor outlines the steps and techniques to safeguard investments. Until now, William Bronchick's wealth protection secrets have been available only to attendees of his powerful seminars, who have consistently praised his cutting–edge, concise, money–saving advice. In Wealth Protection Secrets of a Millionaire Real Estate Investor, Bronchick shares his proven methods, including how to:
Use trusts for privacy, asset protection and estate planning.
Understand the difference between S and C corporations.
Become legally judgment-proof using LLCs and Family Limited Partnerships.
Defer income tax payments without a penalty.
Slash taxes through the use of corporate entities.
Gain protection from financial ruin in a poor economy.
Understand how to properly use insurance to minimize costs and financial risks.
Also included are sample asset protection plans that can be easily modified. Smart real estate investors and successful entrepreneurs will get an indispensable collection of some of the best ethical and legitimate tactics for maximum wealth protection.
Retail Price $18.95
---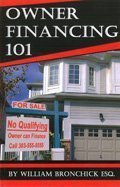 Owner Financing 101
Learn how to buy real estate with little or no money down and without banks or credit.
Covers seller financing, AITD, contract for deed, wraps, lease/options and more!
Great starter book for understanding the basics of non-traditional, creative financing.
Retail Price $29.97 
---
Get all Five eBooks Valued at Over $100, for Just $17.00